"There are three things I've learned to never discuss with people: religion, politics and the Great Pumpkin." – Linus, "It's the Great Pumpkin, Charlie Brown"
In following these wise words, I will avoid the aforementioned topics and simply wish you a very safe and fun evening! I realize tonight is likely to be a busy one for folks, so I'll keep this one short and bulleted.
· Appreciations:
As you know, last week concluded with our conference days. These days are vital to our school year, and the amount of time, attention, and care put into them by our staff is considerable and impressive. Thank you to our Staff Appreciation Committee and the many, many people involved that provided our staff with three days of delicious lunches. The lasagnas, soups, and fajitas were very much appreciated and very delicious.

An additional step towards reclaiming our outdoor classroom has recently been completed. Eagle Scout and former falcon, Jacob Boone, along with several helpers have created/reinforced a series of steps enabling safe access for our students to the outdoor classroom. Thank you, Jacob, for giving back to our campus.
· EEF DONATION DAY:
Thank you to every family who has participated and contributed to EEF! If you haven't, there is still one more chance! Tomorrow, November 1st, is EEF Donation Day, and the front car line will be staffed with EEF reps who are happy to thank you for your support in funding teacher positions.
· STEAM FEST
One of our most special days of the year is fast approaching. STEAM Fest is happening Friday, November 15th, and I cannot stress enough the need for volunteers to continue making this event a success. Please click here for more information on how you can help us out! Please note, due to liability reasons and logistics, only parent volunteers and EISD students are allowed on campus this day.

Additionally, if a child is NOT registered on Membership Toolkit, they will NOT be "officially" registered in STEAM Fest and courses will be selected for them. Please make sure to register your child in order to select their courses for the day.
Is there a FTE Staff Member You Would Like to Recognize...
Falcon Finest Acknowledgements
Please join me in spreading those feel good vibes around our campus. Everyday our bus drivers, custodians, office staff, and teachers are doing incredible things. If there is a FTE staff member you would like to recognize for their contributions, please let me know by clicking the link below.
Author Visit:
Who: Jeff Kinney (author of the Diary of a Wimpy Kid series)
When: Nov. 5th at 10:45 am
Where: Valley View Elementary
What: Students can purchase an autographed copy of his new book by filling out the order form.
For: Forest Trail Elementary 3-5 graders

Jeff Kinney is the #1 USA Today, New York Times, and Wall Street Journal bestselling author of the Diary of a Wimpy Kid series and a six-time Nickelodeon Kids' Choice Award winner for Favorite Book.
Click here for order form.
Changes Effective November 6th...
Beginning November 6th, parents and visitors of Forest Trail Elementary will need to re-scan their driver's license to enter the school. The district is updating its Raptor visitor management system, which requires anyone who is visiting a campus to scan their driver's license, even if they have done so previously. If you are visiting FTE beginning November 6, please make sure to bring your driver's license inside the school for this one-time scan!
Once parents scan in at FTE, they should not need to scan in again, and they should not need to scan in if visiting another Eanes ISD campus.
Eanes ISD uses Raptor to screen and track visitors coming into its schools and keep unwanted visitors out. The Raptor system also screens for sex offenders, alerts staff of custody violations and provides district-wide reporting for all visitors.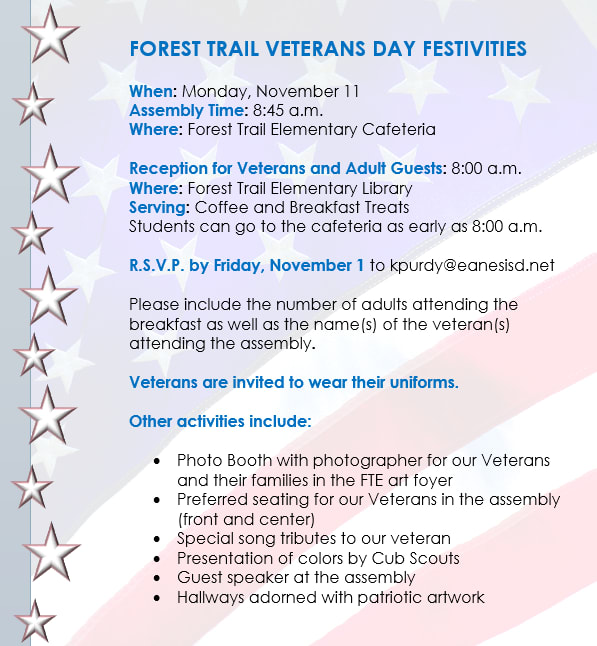 Veterans Day Activities and Volunteer Needed

We once again want to line our hallways with pictures of family members who are Veterans or current military personnel. Please use one of the enclosed templates (your choice) - download here, fill out the questions on the template and attach a picture electronically.
If necessary, you can also fill out the template, print it, attach a picture and return it to your child's homeroom teacher.

All picture forms are due NO LATER than FRIDAY, NOVEMBER 1
(No pictures will be accepted without the template and no pictures were kept from last year.)

Please return electronic versions to Forest Trail via email to Nancy Bettersworth:
nbettersworth@eanesisd.net

Volunteer needed! We are seeking a parent volunteer to take pictures during the Veterans Day assembly (November 11 at 8:45 am). We will also have a picture booth for Veterans and their families outside the art rooms after the assembly. Please contact Mrs. Bishop if you can volunteer! kbishop@eanesisd.net

FTE STEAM FEST IS NOVEMBER 15th!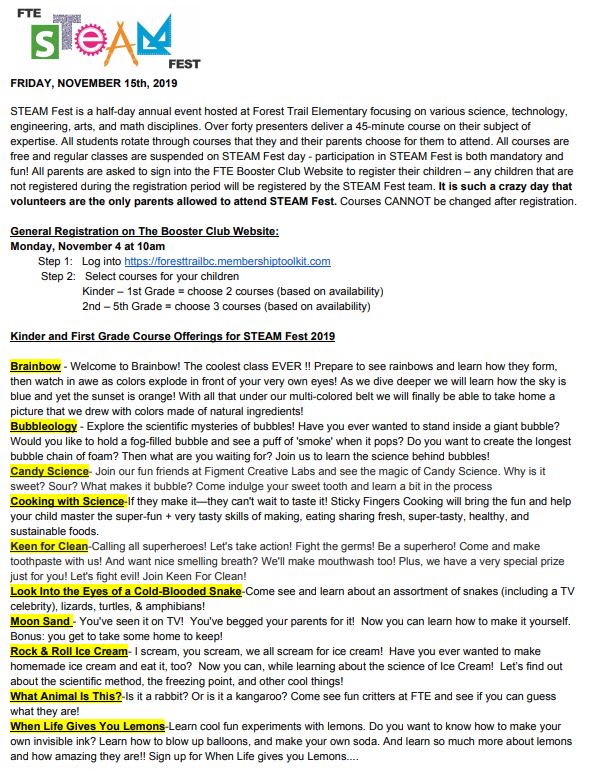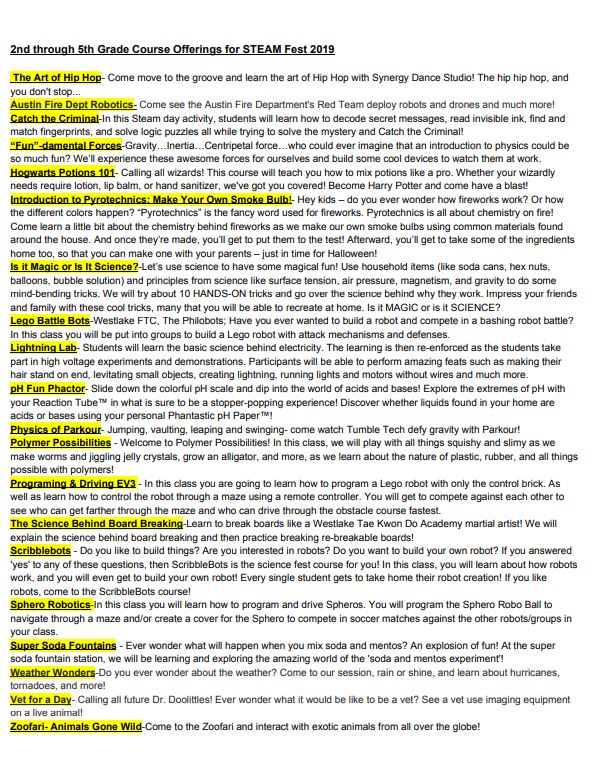 Purchase your YEARBOOK today!

Prices increase November 1st, so order today and check it off your list.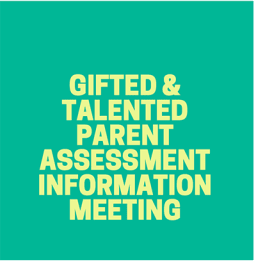 Kinder parents are strongly encouraged to attend this informational meeting on December 2, 2019, 6PM @ Valley View Elementary. Kinder Consent to assess form will be available December 2 through 20th.
We have so many people to thank for for making this past week a great one at FTE! From our Staff Appreciation committee providing goodies for our teachers during conferences, to our successful inaugural Halloween Hop: Daddy Daughter dance and rounding out the weekend with the Parent Social for the kinder parents. Thanks to our FTE community for all you do! The Second Grade parent social is this weekend-make sure to get your tickets at the link below!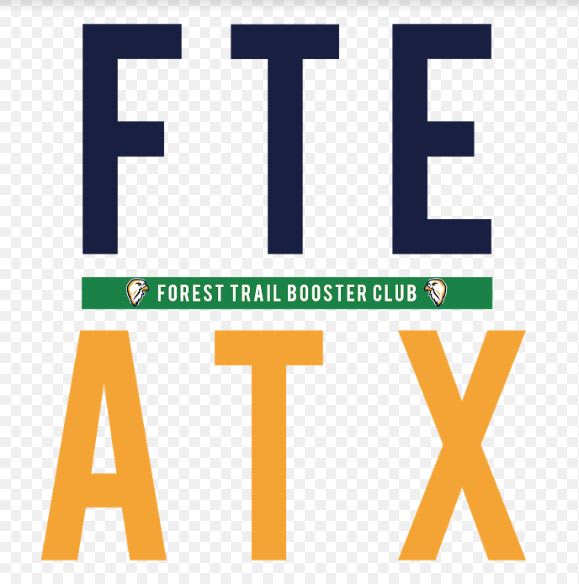 Staff Appreciation Committee Co-Chairs, Alison Bogle, Colleen Dartez and Veronica Hernandez would like to extend a HUGE thank you to the following committee members for their hard work and contributions during last week's conference luncheons:
Shelley Bates, Emily Bevan, Michelle Brandl, Rachel Breedlove, Heather Campbell, Kara Cooper, Allison Copeland, Bhumika Dawson, Elizabeth Elias, KayLee Fordham, Marya Fowler, Bri Gungoll, Kate Hall, Jenny Hillman, Elizabeth Hooks, Melissa Howitt, Manny Johnson, Cindy Keel, Joy Krienke, Sandy Lia, Kendra Lipman, Mandy Mazry, Angela McCown, Eryn Myers, Melissa Olen, Stephanie Owens, Katie Ruback, Carrie Rupprath, Rachel Sheriff, Beth Shields, Heather Singleton, Suzie Trigg, Lydia Tsai, Katie Tucker, Ana Maria Qualman, Diana Uhlaender, Marjet Ulmann, Megan Ulmann, Donna Villacis, Kami Wickham, Jessica & Kevin Wright and Kristen Yen
We had so much fun at our wildly successful inaugural Daddy Daughter dance this past Friday! Thank you to our Social Committee co-chairs, Carissa Milam and Mandy Mazry, and their hardworking committee: Heather Hamm, Erin Kant, Julie Linn, Christine Parker, Jenny Sutter, Katie Tucker, Lauren Burris, Meredith Traweek, Megan Ulmann, Morgan Nelson, Shannon Fohn, Shelley Bates, Sherri Sims, Tara LeBlanc, Tori Harris, Melissa Olen and Marianne Inman.
First Grade Social: FTE City Limits
Second Grade Social: Falcon Homecoming
Save the Date for STEAM FEST!
More information about volunteering and signups coming soon.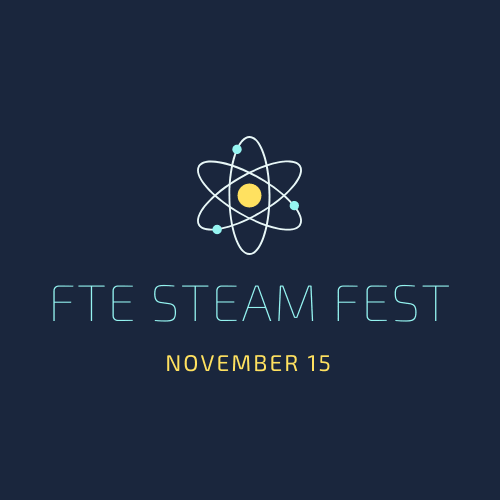 Save the date and watch for an email with sponsorship opportunities!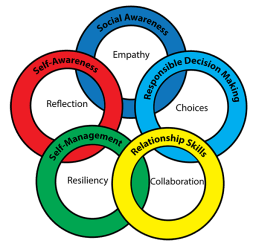 Dr. Leonard emphasized the importance of connecting with our children and talking "about ways to handle stress and to find healthy solutions when faced with adversity." Self-Management is the ability to adjust and manage one's behavior. It is an underpinning for resiliency. Self-Management/Resiliency is the Eanes Independent School District focus for the second nine weeks. 
10:00 AM - 4:00 PM. Rain or Shine. Free Admission. Juried Show with 40+ Austin Artists, Food Trucks, and Silent Auction.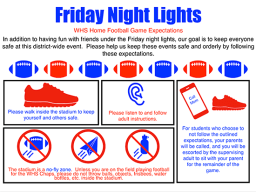 In addition to having fun with friends under the Friday night lights, our goal is to keep everyone safe at the district-wide event. Please help us keep these events safe and orderly by following these expectations.
Oct 31 2019
FTE - B DAY
All day
Oct 31 2019
FTE - COSTUME DAY
All day
Oct 31 2019
FTE - GT PLACEMENT 1ST - 8TH GRADES NOTIFICATION LETTERS MAILED
All day
Oct 31 2019
FTE - NO HOMEWORK NIGHT
All day
Oct 31 2019
FTE - POPCORN SNACK DAY
All day
Nov 1 2019
FTE - C DAY
All day
Nov 2 2019
FTE - 2ND GRADE PARENT SOCIAL
7:00 PM - 11:00 PM
Nov 4 2019
FTE - A DAY
All day
Nov 4 2019
FTE - 5TH FIELD TRIP TO MAGIC IN MOTION
10:00 AM - 1:30 PM
Nov 5 2019
FTE - B DAY
All day
Nov 5 2019
FTE - 3RD - 5TH GRADE AUTHOR VISIT - JEFF KINNEY
10:45 AM - 12:00 PM
Nov 5 2019
FTE - EARLY RELEASE 12:30pm
12:30 PM - 1:30 PM
Nov 6 2019
FTE - 5TH GRADE LIVE OAK ADVENTURE
All day
Nov 6 2019
FTE - C DAY
All day
Nov 7 2019
FTE - 5TH GRADE LIVE OAK ADVENTURE
All day
Nov 7 2019
FTE - A DAY
All day
Nov 7 2019
FTE - POPCORN SNACK DAY
All day
Nov 7 2019
FTE - MOM'S NIGHT OUT
7:00 PM - 9:00 PM
Nov 8 2019
FTE - 5TH GRADE LIVE OAK ADVENTURE
All day
Nov 8 2019
FTE - B DAY
All day