FOREST TRAIL 2020-2021
KINDERGARTEN REGISTRATION
WE NEED YOUR HELP! Do your friends and/or neighbors have a child that will be five years old by the first of September? Please help us spread the word! "Official" kindergarten registration for the 2020-2021 school year will be conducted on Wednesday, March 25th from 9:00–10:00 A.M. in the Forest Trail cafeteria.
At 9:00 on March 25th, all incoming kindergartners and their parents will meet in the cafeteria. At that time the children will be divided into small groups and taken to the kindergarten classrooms with one of the kindergarten teachers. Parents will remain in the cafeteria for a question and answer session hosted by one of the kindergarten teachers, the counselor, and the principal. After approximately 30 minutes, the children will rejoin their parents in the cafeteria where they may enjoy a morning snack. The morning will conclude with an official EISD school bus ride. For your convenience, the rear doors to the school will be unlocked that morning to allow for parking in both the front and rear of the school.
To be eligible for kindergarten, a child must be 5 years of age on or before September l, 2020. Enrollment for incoming kindergarteners is online at www.eanesisd.net. Beginning March 2nd at 10:00 p.m., parents may access and complete the on-line required forms. We request parents of next year's kindergarten students make every effort to complete the on-line registration by the morning of March 25th. The registration information is essential to determine the staff needed and the number of classrooms required.
After completing the on-line enrollment forms, parents will need to bring the following to the Front Office:
an original copy of child's birth certificate, preferably with a photocopy

a

photocopy

of child's

social security card
a

photocopy

of child's

completed

immunization record (*This is required before school starts.)
a

photocopy

of guardian's valid driver's license
(2)

proofs of residency

in EISD (current utility bill and copy of lease agreement, deed contract or recent tax receipt.
If it is not possible to obtain a photocopy of these materials before registration, a copier will be available in the front office. Parents may bring originals with them, and a member of our staff will help make any copies needed. We encourage parents to turn these in any time prior to Kinder Roundup. Our receiving these items in advance gives us additional time to review the materials and will reduce your waiting time on registration day.
Miscellaneous forms will be found in Kinder Packets (i.e. FTE Directory Form, Bus Buddy form, School Supply information, Kindergarten Day information, etc.) and will be available for pickup in our school office beginning Monday, March 9th.
Is there a FTE Staff Member You Would Like to Recognize...
Falcon Finest Acknowledgements
Please join me in spreading those feel good vibes around our campus. Everyday our bus drivers, custodians, office staff, and teachers are doing incredible things. If there is a FTE staff member you would like to recognize for their contributions, please let me know by clicking the link below.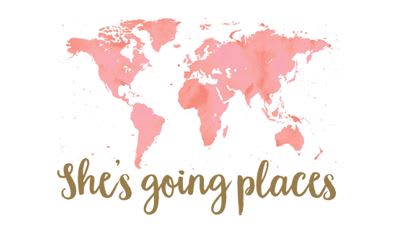 15th ANNUAL MOTHER/DAUGHTER RETREAT
Hello Forest Trail Mothers and Daughters,
Please join us for 15th annual Mother Daughter "She's Going Places" Retreat!
When: Friday, April 24 through Sunday, April 26
Where: T Bar M Resort & Camps
Cost: $175 per person / $10 per shirt via venmo @FTEMDR
RSVP: No later than March 27th @ https://forms.gle/3WVmvLwgg3QNT6yD6
We'll be in touch with more details via email. If you have any questions, please contact the
MDR Committee@fteretreat@gmail.com.
Thanks!
Jennifer Hutson
Kelley Inmon
Kate McGrath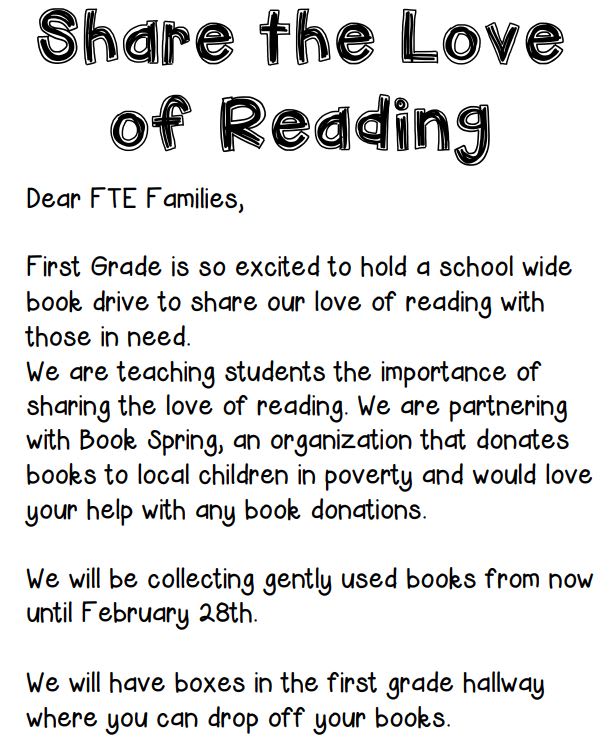 SAVE THE DATE ...FTE SCHOLASTIC BOOK FAIR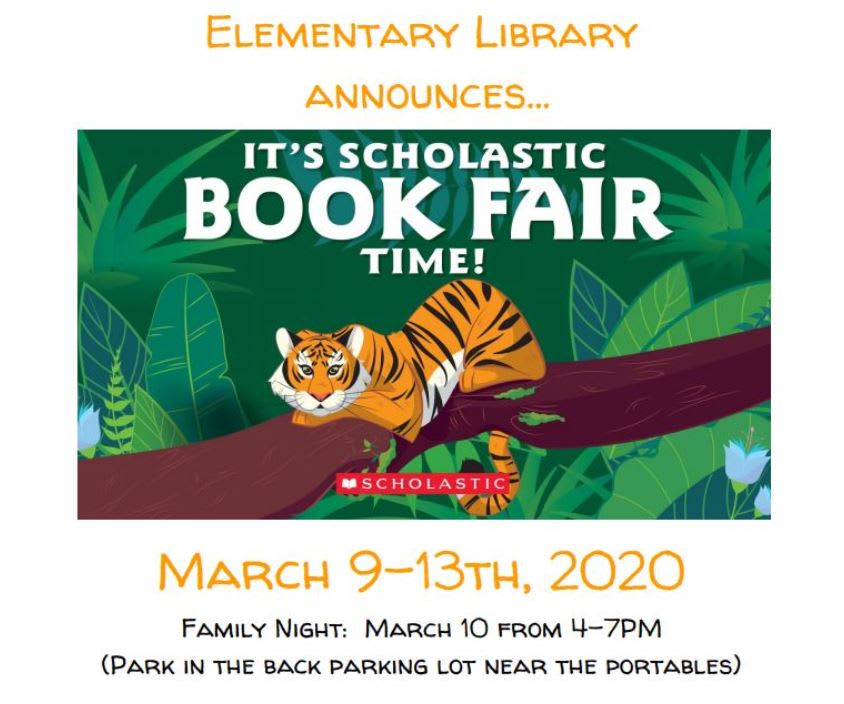 CLICK TO ENTER FTE BOOK FAIR WEBSITE
(Includes Directions for Setting Up Student eWallets)
We need your help to make this year's book fair a success!
QUESTIONS: Amy Tillman, FTE Librarian
DON'T MISS OUT ... PURCHASE YOUR FTE YEARBOOK TODAY!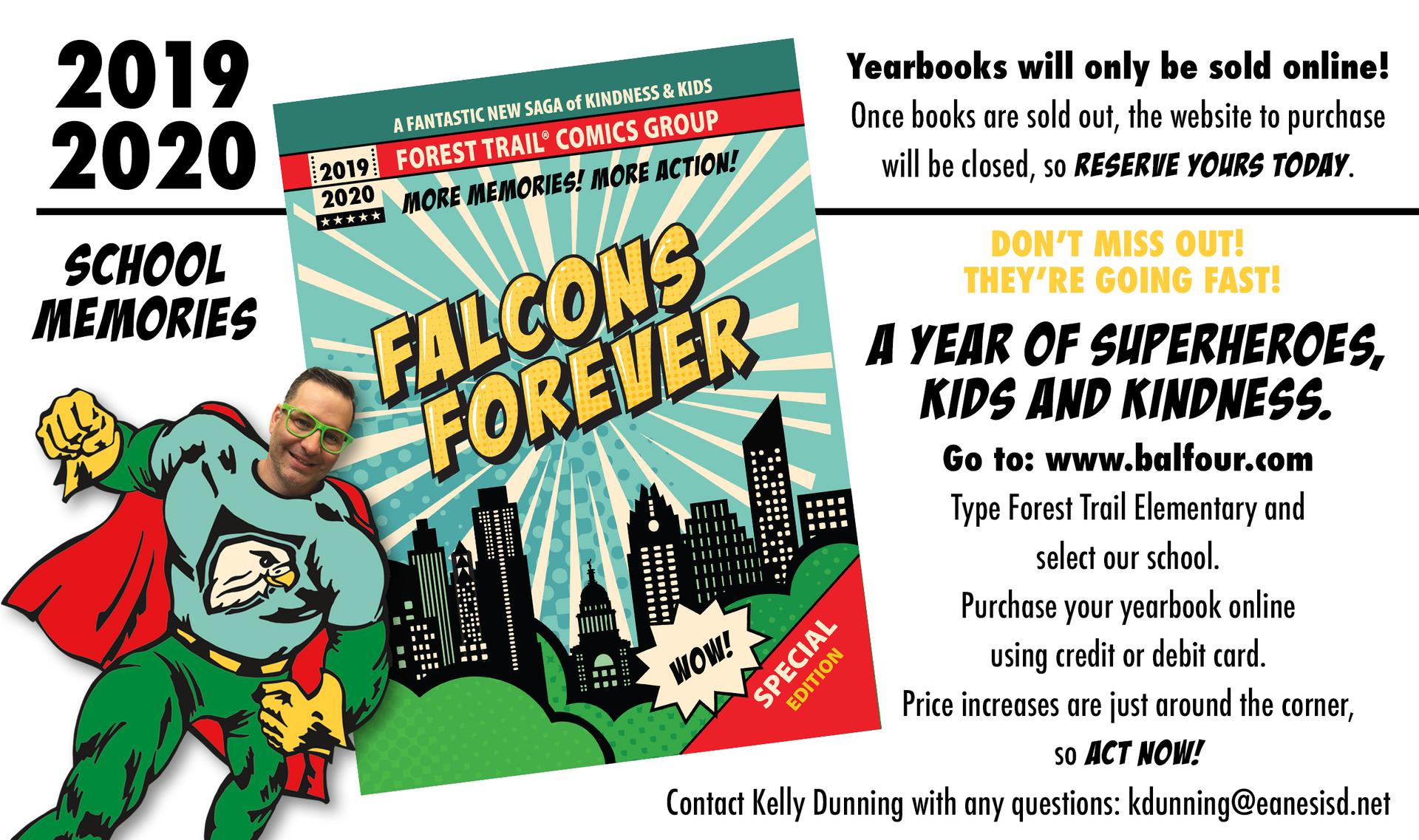 Student Information Verification (SIV) opens Monday, March 2 @ 12 noon and must be completed by March 13 for all Eanes ISD Students except current graduating seniors. The following also opens on March 2: New Student Online Enrollment, Spanish Immersion Application and Returning Transfer Application.
Thank you to everyone who came to our last Booster Club meeting with Westridge Principal Dianne Carter. We won't have a meeting in March, but save the date for our next meeting on Friday, April 3rd.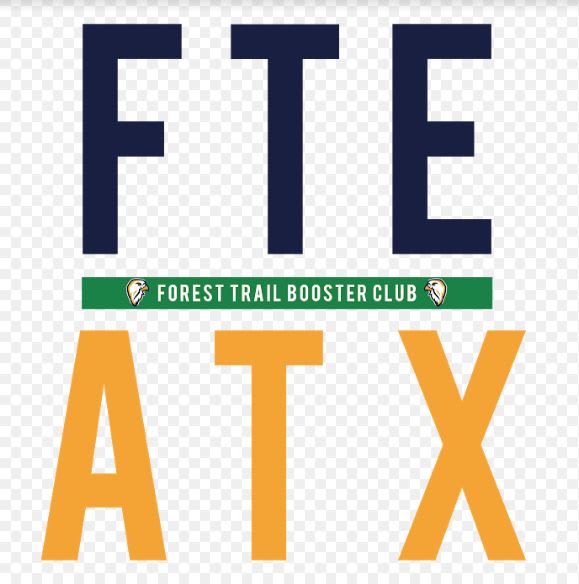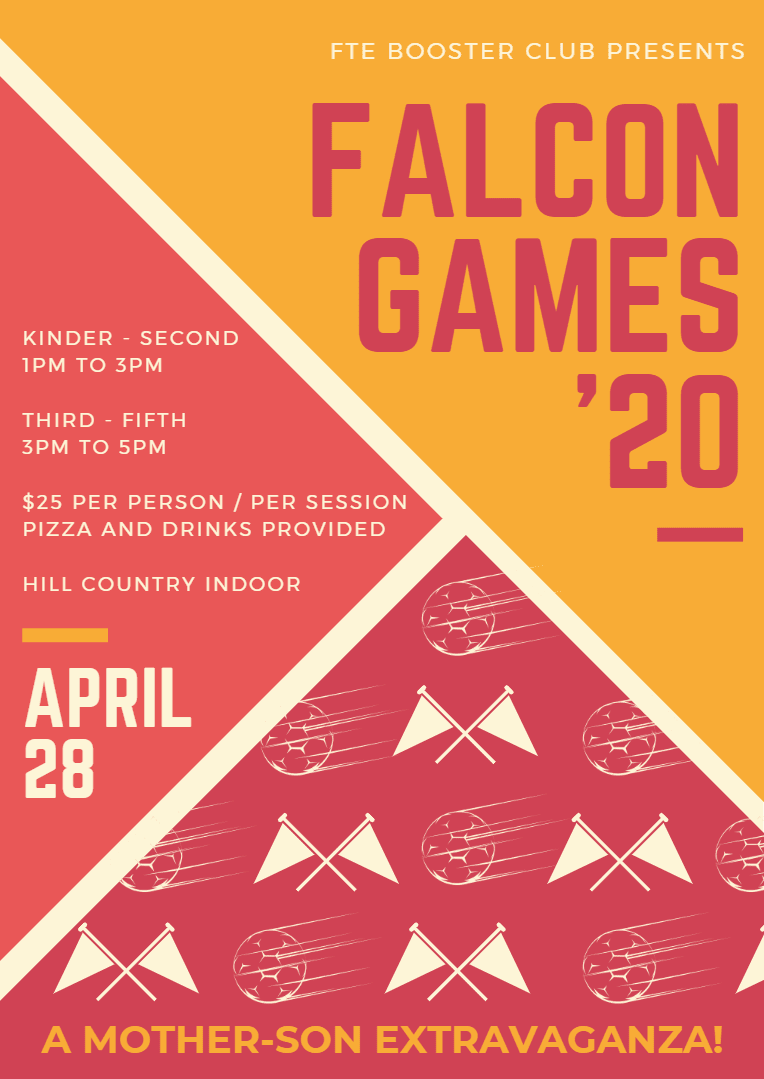 Join your FTE friends for our first-ever Mother/Son event -- Falcon Games!!!

Ticket sales will begin on Monday, March 9th and will conclude when all tickets are sold, no later than Friday, March 27th. Space is very limited!!
Moms and sons are invited to an afternoon of games at Hill Country Indoor on the FTE early release day, Tuesday, April 28th. Boys are encouraged to bring a special lady (mom, aunt, grandma, friend) to enjoy a spirited afternoon of games. Participants will rotate through Dodgeball, Capture the Flag and the Zone play area. No experience needed, just high energy and maximum effort. Each participant will need a ticket. If they want to attend both sessions because they have a son in each session, they will need a ticket for each session.
Boys in kinder-second grades will attend from 1:00 - 3:00 p.m. and boys in third-fifth grades will attend from 3:00 - 5:00 p.m. Pizza and water will be served. Boys are required to have a participating adult with them at all times.
Set your alarm for Monday, March 9th to purchase your ticket! Space at Hill Country Indoor is limited.
**Please don't hesitate to reach out to Carissa Milam (carissamilam@yahoo.com) and Mandy Mazry (mandymazry@gmail.com) with any questions**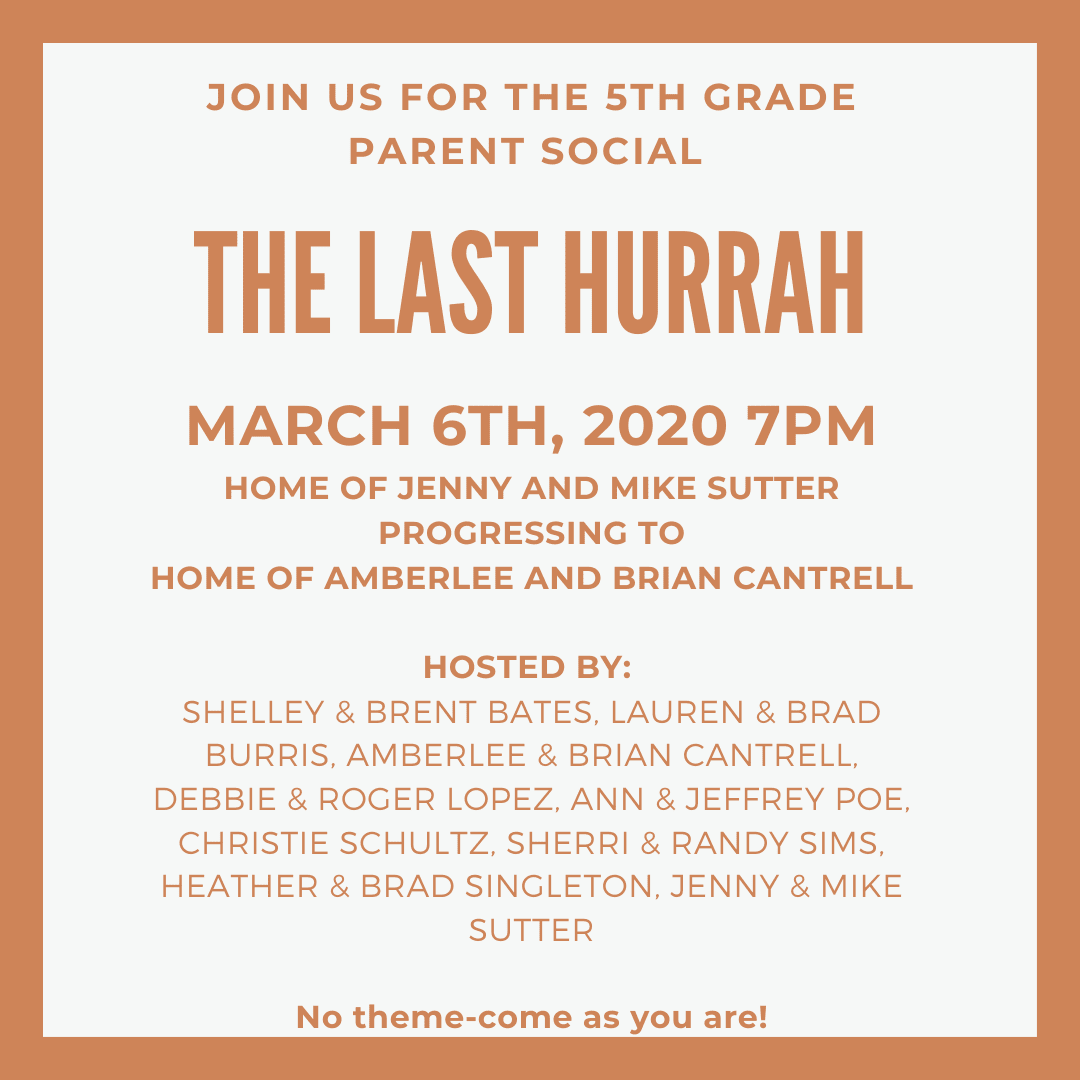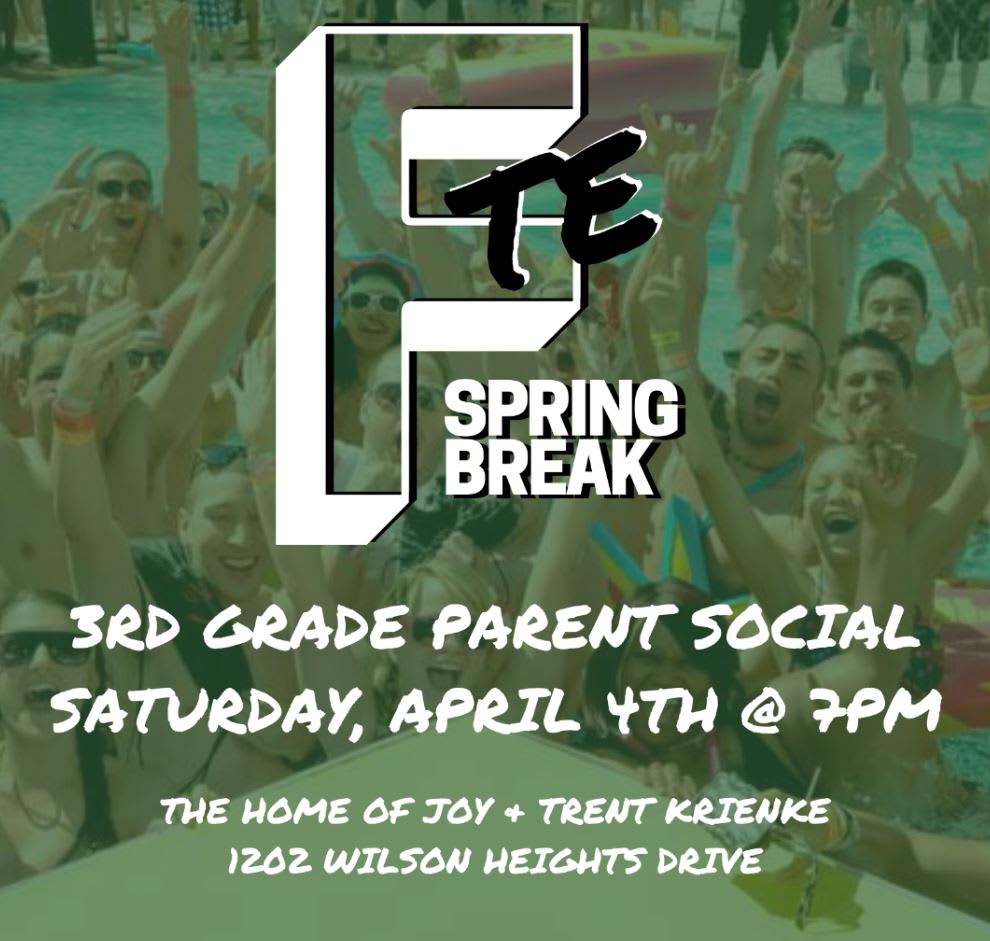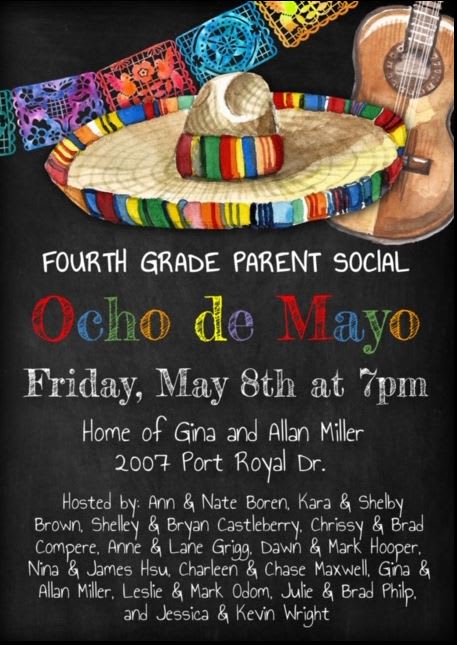 Ready to Get Involved?! Calling for FTE Booster Club Executive Board Nominations:
Want to Get More Involved at FTE? - While we still have a few months to go until the end of another great school year, it is time for the Booster Club to ask for your continued support for FTE. We would like to invite you to consider a leadership position in the FTE Booster Club for the next school year. The Booster Club will be looking for nominations for the following Executive Board positions for the 2020-21 school year:

Co-President Elects (2) – Shadows co-presidents during the school year, attend general booster club meetings and executive meetings (each once per month), responsible for Muffin Morning organization for the 2020-21 school year. Support and attend booster club activities. Will serve as Presidents for 2021-22 school year.

Treasurer-Elect – Shadow treasurer for the 2020-21 school year and will serve as Treasurer for 2021-22 school year. Attend general booster club and executive board meetings (each once per month). Support and attend booster club activities.

Secretary - Records minutes for general booster club and executive board meetings. Support and attend booster club activates. Attend general booster club and executive board meetings (each once per month). Responsible for social media postings on Facebook and Instagram.

Technology Chair- Maintains FTE Booster Club website. Attend general booster club and executive board meetings (each once per month). Support and attend booster club activities.

The Booster Club appoints an ad-hoc Nominations Committee, which reviews all the nominations received for these Executive Board positions and recommends a slate of officers. The names of the Nominations Committee members, a call for nominations for the Executive Board positions, as well as a list of Committee Chair positions, will be presented to the members at the March meeting. The slate is announced at the April meeting, and voted upon in May. If you are interested in nominating yourself or a friend for any of these positions please e-mail our current FTE Booster Club Presidents at ftebccopres1@gmail.com and we will include the names in the nominations process. Thank you for your continued support of the FTE Booster Club!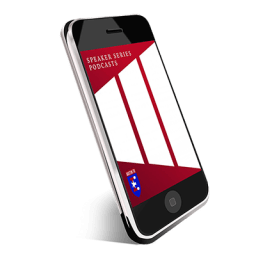 Podcasts highlight topics about issues including relationships, depression, study skill tips, internet safety, resiliency, etc.  The Eanes-Westlake Speaker Series Presentations are recorded and are made available available through iTunes, Spotify, or Anchor.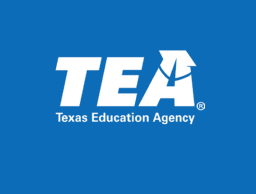 Senate Bill 139 requires all school districts to notify parents of updates to Special Education by the Texas Education Agency.  Please click on the link to see these notices in English and Spanish.
Purchase your "Inclusion Lives Here" T-Shirt. On sale Feb 17 - Mar 6 ONLY! Cost is $15. All Proceeds Support WHS Best Buddies Chapter. Purchase at https://eanes.revtrak.net/​​​​​​​
Feb 27 2020
FTE - C DAY
All day
Feb 27 2020
FTE - CLASS PHOTOS/SPRING PICTURES
All day
Feb 27 2020
FTE - POPCORN SNACK DAY
All day
Feb 27 2020
Westlake Speaker Series, "Resiliency"
12:00 PM - 1:00 PM
Feb 27 2020
FTE - CHARLIE'S CHALLENGE
3:30 PM - 4:45 PM
Feb 28 2020
FTE - A DAY
All day
Feb 28 2020
FTE - 1ST GRADE I LOVE TO READ DAY
9:00 AM - 10:00 AM
Feb 28 2020
FTE - 5TH GRADE RSB PARENT MTG.
12:00 PM - 1:00 PM
Mar 2 2020
FTE - B DAY
All day
Mar 2 2020
FTE - STUDENT INFORMATION VERIFICATION (SIV) & ON-LINE ENROLLMENT OPENS
12:00 PM
Mar 3 2020
FTE - C DAY
All day
Mar 4 2020
FTE - A DAY
All day
Mar 4 2020
FTE - POPCORN SNACK DAY
All day
Mar 5 2020
FTE - B DAY
All day
Mar 5 2020
FTE - 3RD GRADE MUSIC SHOW
8:30 AM - 9:30 AM
Mar 6 2020
FTE - C DAY
All day
Mar 6 2020
FTE - END 3RD 9 WEEKS
All day