"Be afraid, be very afraid; but do it anyway..."
"Be Afraid" – Jason Isbell and the 400 Unit
First things first: Happy Mother's Day to all of our Falcon moms. You're pulling extra duty these days, and I hope your kids spoil you rotten this weekend.
Despite these ominous lyrics, I bring good news…I think. In an effort to bring more "normal" to our students, we have found a way to share a student favorite at home. However, it comes with one more app on the green iPads. I realize that many of us are in a position of not being interested in anymore "new" in our lives. With that in mind, I'm going to be afraid and do it anyway.
One of the more popular focal points on campus is our display screens. I'm sure you have seen them; one is in our foyer above the fish tank, and the other is in the cafeteria. When parents elect to do so, birthday messages are broadcast as well as general information about upcoming events and opportunities. Students love stopping at them to see who Is having a birthday and wishing our students well as they see them in the halls.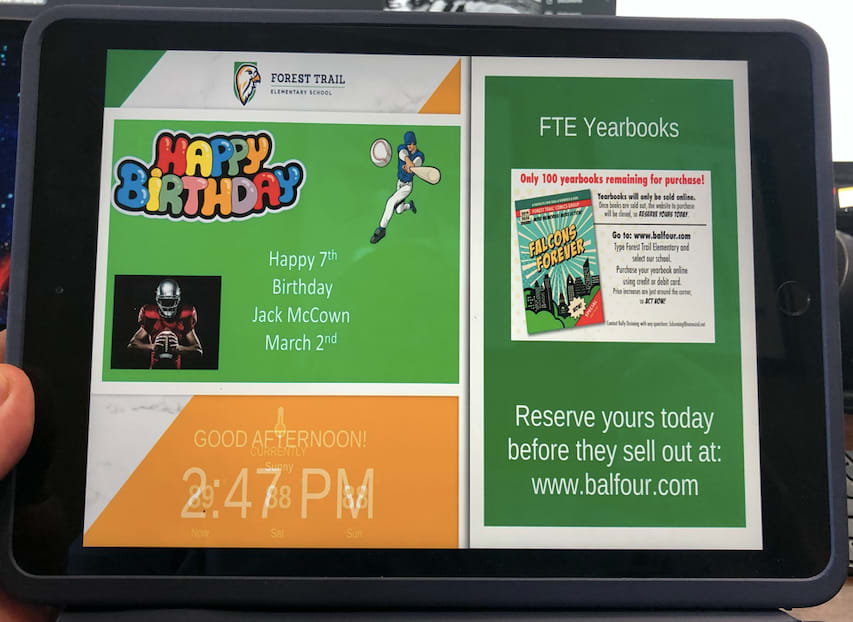 We have found a way to bring this content to the Green iPads. With the help of Chris Miller in Tech Services and parents like Laura Boon, Michelle Strain, and Jennie Pope, birthday messages can now be seen on a newly added cloud app called Carousel. Our goal is to provide our students with more pieces of FTE to remain connected and continue building our community despite our current restrictions.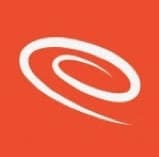 Lastly, we are taking steps to prepare for next Fall. Time constraints dictated that Monday, May 11, will be the last day I will be accepting the "green sheet" emails.
As Texas begins to open, I wish you all a very happy weekend and continued health and safety.
Is there a FTE Staff Member You Would Like to Recognize...
Falcon Finest Acknowledgements
Please join me in spreading those feel good vibes around our campus. Everyday our bus drivers, custodians, office staff, and teachers are doing incredible things. If there is a FTE staff member you would like to recognize for their contributions, please let me know by clicking the link below.
DEADLINE TO ORDER 2020-21 SCHOOL SUPPLIES IS MAY 31st!
School supply ordering is NOW OPEN! We are hoping for 100% participation for the upcoming 2020-21 school year! The Forest Trail Booster Club has generously offered to fund some bulk items that were originally included in the kit fee (as well as some additional items) as a way to reduce the price to a flat fee of $49.99. This is now a service for families, not a fundraiser! Booster club is purchasing the following items:
Art Sketch Pads (school-wide)

Music Recorders (4th grade)

Planners (4th & 5th grade)
Go to: http://1stdayschoolsupplies.com/kits.php?sid=101000 to order.

Following are additional reasons to buy the pre-packaged kits:
Items are hand-picked by Forest Trail teachers

Classroom activities run more smoothly if every kid has the same supplies

Our new vendor (1st Day School Supply) ONLY provides brand-name high quality items

Convenience! No running around town shopping AND kits are delivered directly to the classroom
*Scholarships available for families needing some assistance with this expense.
DEADLINE TO ORDER IS MAY 31!
ONLY 30 YEARBOOKS REMAINING FOR PURCHASE!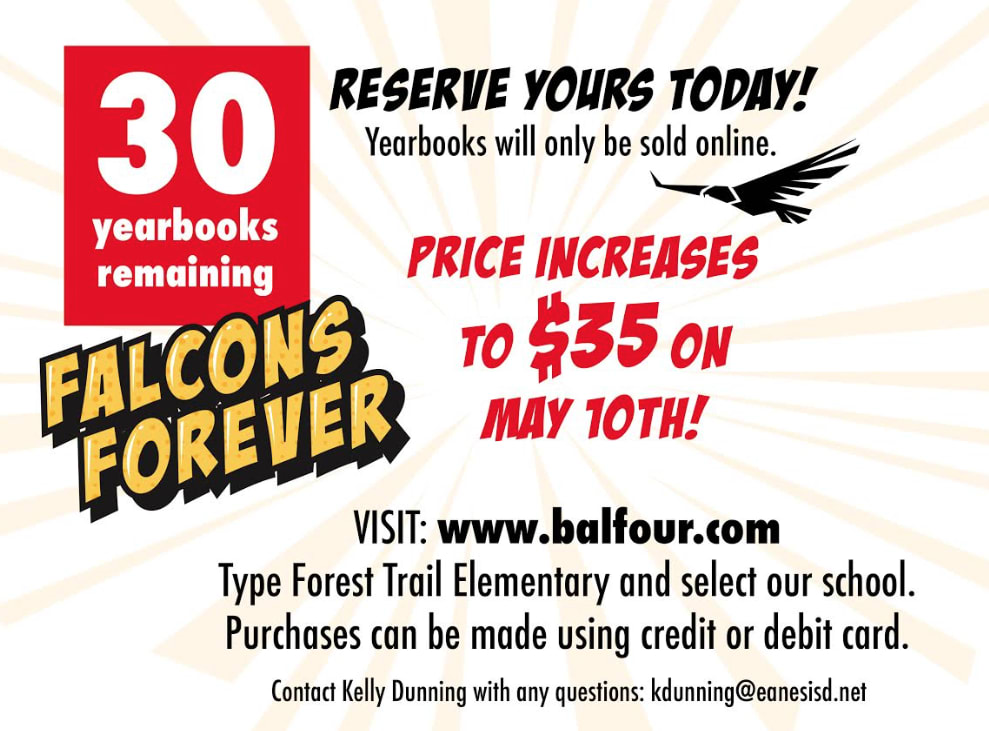 SPECIALS "SHOW OFFS" MAY 1ST-26TH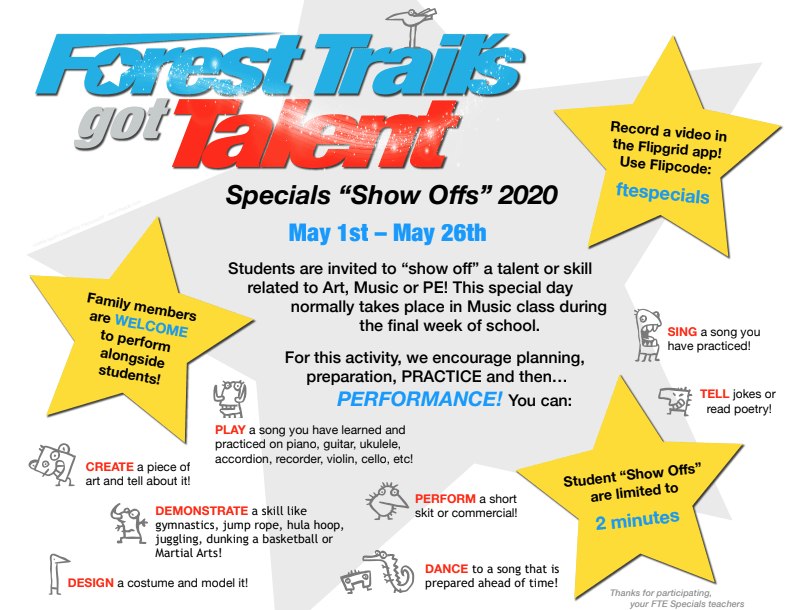 ---
Eanes ISD Elementary Counseling Team
---
Listed below are resources and strategies for families during this time of social distancing.
COVID Mental Health Support Line- Open 24/7. The hotline is for anyone who needs mental health support in regards to COVID. Call: 833-986-1919.
Parent Resources:
Optional Counseling Activities for Students (K-2) & (3-5):
Plan a meal with your family and help prepare the meal (3-5)
Last Booster Club Meeting Tomorrow via Zoom

Our final Booster Club meeting will be tomorrow May 8th at 9:15am via Zoom. Zoom call-in information was sent to all Booster Club members this morning from ftebctech@gmail.com. If you didn't receive an email please email ftebccopres1@gmail.com and we will send it to you. Principal Spraberry will be joining us at the beginning of the meeting to give a general update. We will also be approving the following slate of 2020-2021 officers. We hope you can join us!
Slate of 2020-2021 Forest Trail Booster Club Officers
Co-Presidents: Katie Ruback and Kate Hall
Co-President Elects: Carissa Milam and Mandy Mazry
Secretary: Melissa Agnese
Treasurer: Diana Uhlaender
Treasurer-Elect: Jenny Sutter
Technology Chair: Jennie Pope

Staff Appreciation Week is THIS WEEK

Our Staff Appreciation committee is working hard to show our staff just how much we appreciate them! As teachers come up to school over the next few weeks to work on their classrooms, they will be greeted by a yard sign that they can take home with them. We hope they know how proud we are of our teachers!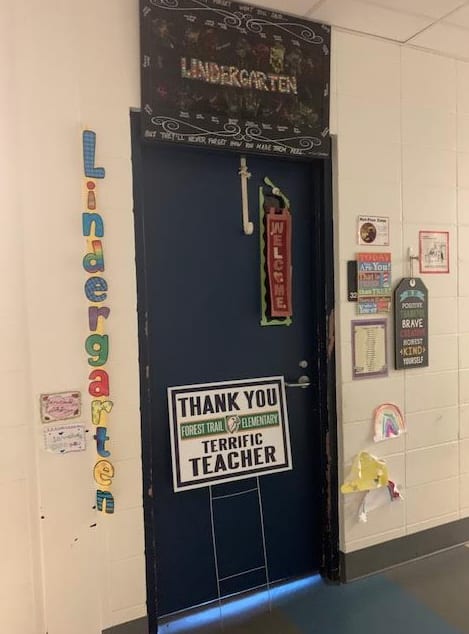 Our committee will distribute gift cards to staff this week. It's not too late for your child to send your teacher a note via email or an e-card website. Let your teachers know how much we appreciate them! Here is a video that the Staff Appreciation Committee made and sent to the staff at the beginning of the week. So fun to see so many Falcons!
Birthday Cards

Birthday cards that are typically shown on our screen at FTE are now available to be seen on the Carousel Cloud App on your child's iPad! Thank you to Michele Strain for her hard work in making this happen.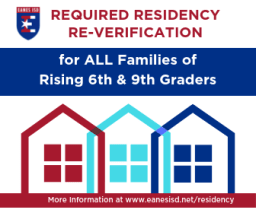 Eanes ISD requires legal proof of residency for all current families of students transitioning into both 6th- and 9th-grades (currently in 5th & 8th grades). This is a mandatory step to confirm and complete the student's enrollment for the upcoming school year.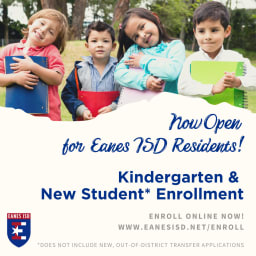 Enroll Online Now! 2020-21 school year enrollment is now open for Eanes ISD Residents. Does not include new, out-of-district transfer applications.
Westlake High School's Project Graduation Committee wants  to blanket the ENTIRE community with 2020 Chap Grad Signs. Buy several for $25 and post around Westlake so our seniors know the whole community is behind them in this year that should have been full of great spring memories.
With the changing environment, we are closely monitoring the effects of COVID-19 and how it may impact the future of our many summer programs. Please know we are planning behind the scenes and will continue to follow city, state, and CDC recommendations as the safety of our campers is our first priority. As we have more information on our Summer Camp Programs we will update this website. For more information visit: https://www.eanesisd.net/coronavirus