We are wrapping a very busy week here at Forest Trail! We had an early release day on Tuesday and school pictures on Wednesday. Tomorrow is Falcon Frolics, and our annual BINGO night is Saturday! I wanted to remind everyone of the 5:00 start time, and I look forward to seeing you all there!
I often receive emails and phone calls letting me know how awesome our staff is. Sometimes it's a general statement, but usually there is a specific instance of someone working with your child that went above and beyond. Last week, a parent asked if she was still able to provide a shout out to her child's teacher. The answer was and is "absolutely yes". After doing some investigating, I've learned our shout out link has moved. As you may be aware, last year, we started our "Good Vibes Only" shout out program to make sure our superheroes were getting recognized for all the extraordinary work they are doing. This link used to be housed in the actual newsletter but has now found a new home on our campus website. You will now find the active link under the "Spotlight" section on our campus home page. While the featured items in the "Spotlight" cycle through, the green link is active and allows for you to share your appreciation for the incredible job our staff is doing.
SOCKTOBER!
Next week begins one of our favorite times of the year - Socktober! On Tuesday, October 1st, we are kicking-off our annual sock drive with a CRAZY SOCK DAY. Students wear their craziest socks to begin the celebrations!
Socktober is a national campaign collecting socks for the homeless, joining others around the country to prove that even the smallest acts of kindness can make a big difference in the lives of our neighbors. Forest Trail's generous donations over the past six years have been so appreciated by our homeless community.
The area shelters need adult male crew / tube socks - they currently have enough children-sized socks. Please be sure to label the name of your child's teacher on the package when you donate! The class that donates the most socks wins an extra PE class with Ms. Lewis!
Happy Socktober!

Parents: CHECK the backpack! Your child is coming home with YEARBOOK information today!

Prices increase November 1st, so order today and check it off your list.
ONLY 2 DAYS LEFT to Support FTE through the No-Hassle Fundraiser!
FTE Booster Club's No Hassle Fundraiser is coming to a close!!! The last day to donate is this Saturday - BINGO NIGHT! If you haven't yet, please consider contributing any amount. All donations are greatly appreciated! Your contributions to the Booster Club fund so many of the activities our students love (like STEAM Fest, field trips, gardening, and tending the chickens) and so many of the upgrades to our classroom and specials areas (like educational technology, reading curriculum, art supplies, musical instruments, and library upgrades). Plus, the class with the highest percentage of families participating in each grade level will win a Kona Ice party! Also, each class that reaches 100% participation will win a very special surprise treat. Do your part to help your child's class win!!!
Remember, the last day to donate is this Saturday – Bingo Night!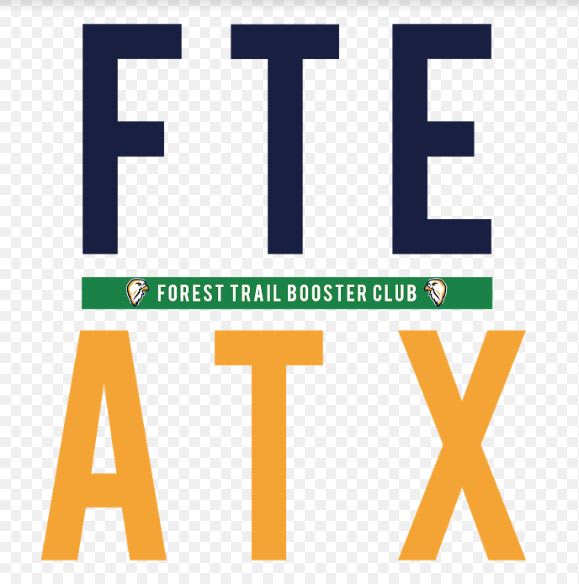 Below are the class rankings in each grade as of Monday:
Kindergarten: PURDY 74%, Linder 70%, Chen 65%, Ormand 65%
1st grade: BRIGHTWELL 86%, Griffith 81%, Dunagan 59%, Martinez 59%, Buro 55%
2nd grade: HURST 71%, Hernandez 67%, Epsich 65%, Koepsel 60%
3rd grade: BRANDENBURG 76%, Fromberg 65%, Crain 62%, Ueckert 62%, Bailey 48%
4th grade: BROOKSHIRE 83%, Ellis 61%, Robinson 58%, Thornhill 50%
5th grade: HITT 73%, Lindsey 60%, Wendell 50%, Berrios 36%
Congratulations to our newest gift card raffle winners: Shelley & Bryan Castleberry, Hillary & Jon Cumberworth, and Carrie & Eric Rupprath.
Learn more and donate via the Booster Club Website by this Saturday, September 28th: http://tinyurl.com/ftenohassle2019
Falcon Frolics is Tomorrow, September 27th!
Thank you to everyone who has signed up to volunteer! Even if volunteer spots are full parents are always welcome to come watch. Time slots are as follows:
3rd-5th: 8:40-10:10
1st-2nd: 10:30-11:30
Kinder: 11:45-12:30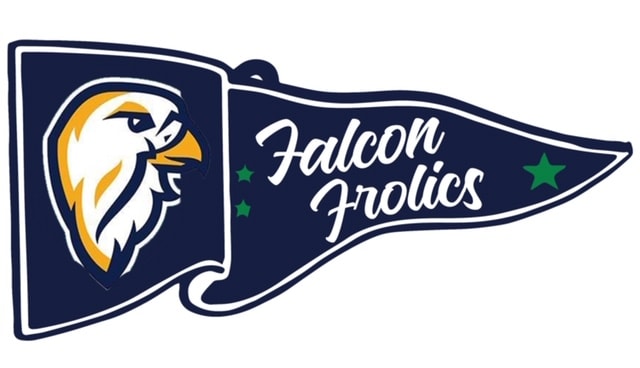 BINGO Night is THIS Saturday!
September 28th, 5-8pm

1st game starts at 5:30 sharp, and the pot is 50% of sales!
WE STILL NEED VOLUNTEERS! 21 and over cashiers are needed. Sign up here: https://signup.com/go/fKfCDkd

Wear your favorite jersey
CASH ONLY: BRING CASH TO WIN CASH
Food, drinks, and snacks available for purchase
Cool raffle prizes for adults and kids!
Donate to No Hassle at Bingo Night and get a free raffle ticket!!!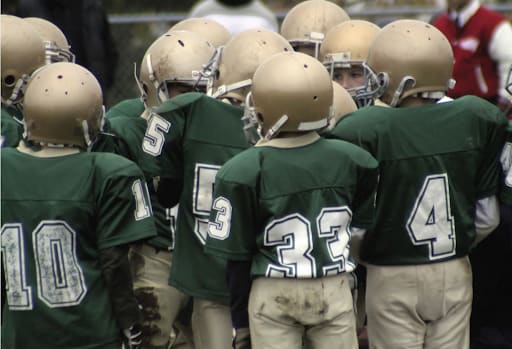 FTE Directory
CHANGES THIS YEAR!!! Please note that for your information to be included in the 2019-2020 FTE Directory, it must be entered on the Booster Club Website AND you must opt-in. Regardless if information was submitted in another format or was previously in the directory, it will not be published unless opted-in on the Booster Club Website.
Please visit the following link to check your information and make sure you have opted-in. You can also purchase a directory while you're there until Friday, September 27th.
https://foresttrailbc.membershiptoolkit.com/membership_publish_info
If you have any questions or are interested in advertising in the 2019-2020 FTE Directory, please contact Ann Boren at ftedirectory@gmail.com.
2019-2020 FTE DIRECTORY PHOTO CONTEST DEADLINE IS FRIDAY...
Give your child a camera or phone and have them snap a picture! The overall winning photo will be featured on the cover of the 2019-2020 FTE Directory. Grade-Level winners will be featured in the directory with the class lists. Please see guidelines below:
1. THEME - NATURE
2. CAPTURE a picture that defines NATURE to you (animals, trees, plants, snow leopards in their natural habitat?)
3. PHOTO must be in digital format or a raw phone file (under 18MB) or approximately 300 dpi. PORTRAIT ORIENTATION is preferred.
4. EMAIL your child's photo to ftedirectory@gmail.com with the subject FTE DIRECTORY PHOTO CONTEST. Please include your child's Name/Grade/Teacher.
5. DUE Friday, September 27th. No late entries will be accepted. Only one submission per student, please.
6. MOST IMPORTANT – YOUR CHILD IS THE PHOTOGRAPHER!
Next Booster Club Meeting is Friday, October 4th.
Join us for a State of the District Presentation with Dr. Leonard.
Get Your Tickets Now for the Halloween Hop...
Tickets for the daddy, daughter dance are available for purchase on the FTE Booster Club website.
Your Kindergarteners have made it through their first month at Forest Trail, learning the ropes and meeting new kids. Now, it's your turn to make new friends or catch up with an old one! Tickets are limited at $45/person. Please purchase right away on the Booster Club website at: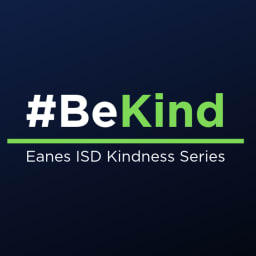 Dr. Leonard is excited to announce a new aspect of an inspiring and important initiative. As many of you know, as a school district, we have had a commitment to the social-emotional wellness of our community for several years. This year, however, we are delving into the topic more deeply throughout the school year.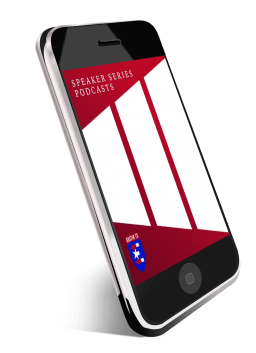 The Eanes-Westlake Speaker Series highlights topics about issues including relationships, depression, study skill tips, internet safety, resiliency, etc. The podcast is available through iTunes, Spotify, or Anchor.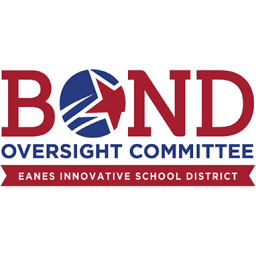 Want to get involved on a district-level committee? Consider applying for the Bond Oversight Committee! The purpose of the BOC is to monitor the progress of bond projects authorized by Eanes ISD voters earlier this year. Applications must be filled out online by midnight on September 30, 2019.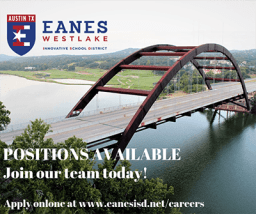 Full and part-time positions are available including Bus Drivers, Child Nutrition Specialists, Easy (Child) Care Providers, Teacher Aides, Special Education Teacher Aides, and Substitutes. We offer great pay and benefits! Click read more link to check out our job openings.
Sep 26 2019
FTE - B DAY
All day
Sep 26 2019
FTE - INDIVIDUAL CLASS PICTURES
12:00 AM - 12:00 AM
Sep 26 2019
FTE - POPCORN SNACK DAY
12:00 AM - 12:00 AM
Sep 26 2019
FTE - DESTINATION IMAGINATION PARENT INFO MTG.
7:30 AM - 8:10 AM
Sep 26 2019
Westlake Speaker Series, "Defeating Digital Distractions"
12:00 PM - 1:00 PM
Sep 27 2019
Falcon Frolics
All day
Sep 27 2019
FTE - C DAY
All day
Sep 28 2019
FTE - BACK TO SCHOOL BINGO
5:00 PM - 8:00 PM
Sep 30 2019
FTE - A DAY
All day
Oct 1 2019
FTE - B DAY
All day
Oct 1 2019
FTE - CRAZY SOCK DAY
All day
Oct 2 2019
FTE - C DAY
All day
Oct 3 2019
FTE - A DAY
All day
Oct 3 2019
FTE - POPCORN SNACK DAY
12:00 AM - 12:00 AM
Oct 3 2019
Westlake Speaker Series, "Greatest Skill to Teach"
12:00 PM - 1:00 PM
Oct 4 2019
FTE - B DAY
All day
Oct 4 2019
FTE - NO HOMEWORK NIGHT
All day
Oct 4 2019
FTE - PRINCIPAL'S COFFEE / BOOSTER CLUB MTG.
8:45 AM - 10:30 AM
Oct 4 2019
FTE - SPIRIT ASSEMBLY 3RD - 5TH
1:45 PM - 2:15 PM
Oct 4 2019
FTE - SPIRIT ASSEMBLY K-2ND
2:30 PM - 3:00 PM