Is there a FTE Staff Member You Would Like to Recognize...
Falcon Finest Acknowledgements
Please join me in spreading those feel good vibes around our campus.  Everyday our bus drivers, custodians, office staff, and teachers are doing incredible things.  If there is a FTE staff member you would like to recognize for their contributions, please let  me know by clicking the link below.
Kindergarten GT Assessment Process
The process to identify our kindergarten GT students has begun. If you are interested in assessing your kindergarten student, please give your consent by clicking on the "Kindergarten GT Consent for Assessment Form" button posted on the Forest Trail website in the "News" section at the bottom. Parents have until December 14, 2018 to register your children for assessment. If you have questions about assessment, please see the slides from the parent meeting held November 5, 2018 at Valley View or contact Shannon Harvey at sharvey@eanesisd.net.
Purchase Your FTE Yearbook Now
Purchase your yearbook online at: balfour.com They are on sale for $25. Price will increase on December 22nd. Yearbooks are a first come first basis and can ONLY be purchased online and no extras are ordered.
Additionally, the 5th grade pridelines are for sale! There is a hard deadline of February 15, 2019 and no exceptions will be made. Visit balfour.com and select "yearbook ads" and follow the instructions online.
If you have any questions please contact Kim Fromberg @ kfromberg@eanesisd.net
FTE Spirit Night at Jason's Deli November 14th
Wednesday, November 14th is a NO COOK Spirit Night at Jason's Deli! Feeding your family and supporting the FTE Booster Club is as easy as 1,2,3!
1. RSVP below and go to Jason's Deli between 5pm and 10pm on 11/14.
2.Tell them you're there for Spirit Night when placing your order and they'll donate 15 percent of your order back to the FTE Booster Club.
3. Enjoy your night (and no dishes to do!)—and thanks for your support!
Thank You FTE Parent Volunteers!!!
Staff Appreciation Committee Co-Chairs, Alison Bogle, Colleen Dartez and Katie Tucker, would like to extend a HUGE thank you to the following committee members for their hard work and contributions during the past conference luncheons:

Shelley Bates, Emily Bevan, Lauren Burris, Heather Campbell, Paige Darby, Kristen Dharamsi, Nicole Duncum, Elizabeth Elias, Marya Fowler, Kate Hall, Veronica Hernandez, Jenny Hillman, Elizabeth Hooks, Melissa Howitt, Marianne Inman, Deirdre Kilgard, Joy Krienke, Mandy Mazry, Melissa Olen, Stephanie Owens, Brenda Pollard, Ana Maria Qualman, Stephanie Rollins, Andrea Romero, Sharon Rossie, Katie Ruback, Lydia Tsai, Diana Uhlaender, Marjet Ulmann, Megan Ulmann and Jessica Wright
Invite Your Veterans
to our
 Forest Trail Elementary Veterans Day Festivities
When?  Monday, November 12
Assembly Time?  8:45 a.m.
Where?  Forest Trail Elementary Cafeteria
A Continental Breakfast for Veterans and Adult Guests (students can go to the cafeteria) 
begins at 8:00 a.m. in the Forest Trail Library.
Please R.S.V.P. to kpurdy@eanesisd.net
Please include the number of adults attending the breakfast as well as the name(s) of the veteran(s) attending the assembly.
Veterans are invited to wear their uniforms.
Other activities include:
Photo Booth with photographer for our Veterans and their families in the FTE art foyer

Preferred seating for our Veterans in the assembly (front and center)

Special song tributes to our Veterans

Presentation of colors by Pack 30, Den 2 Senior Webelos Cub Scout Den

Special speaker at the assembly:  David Smith, Co-founder and Executive Director of Pure Joy Foundation, Former US Naval Officer and F-14 Tomcat pilot

Hallways adorned with special patriotic artwork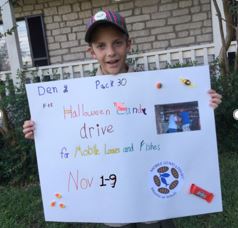 Sr. Webelos Halloween Candy Drive
FTE's 5th Grade Cub Scouts are sponsoring a Halloween Candy Drive benefiting Mobile Loaves and Fishes.
Please bring unwanted candy to Forest Trail by Friday, November 9th to donate to this amazing foundation.
Donation boxes will be available in the FTE Front Office, and the Foyer by the fish tank. Thank you for supporting the Sr. Webelos and Mobile Loaves & Fishes!
Cleaning out your Closets? De-Cluttering?
We may have a place for your unwanted/unneeded items!
Any of these items may be brought to the FTE gym, There will be a collection box placed by the equipment room doors. We appreciate your generosity!
Thank you to Dr. Courtney Carr for donating toothbrushes!!!
Old/Used/New College T-Shirts Needed!

My niece, Lindsey Etter, is a first year teacher at Barbara Bush Middle School in Farmers Branch/Carrolton, Texas. Every Wednesday they have, "Wear Your Favorite College T-Shirt Day" to promote college preparation. Sadly, most students can't afford a shirt. Our wonderful FTE staff has donated 25 shirts, but there are 1000 students, so I'm trying to collect as many as possible. If you have a college t-shirt you could donate, please send it with your student or drop it by my office.
Thank you in advance for your help with this!

Monica Etter
School Counselor FTE
FTE BOOSTER CLUB MEETING FRIDAY, NOVEMBER 9th
Coffee with Principal Spraberry begins at 9am and a presentation by the FTE RTI (Response to Intervention) Team begins at 9:15am in the FTE Library. We hope to see you there!
Come join the class of 2031 parents for a one of a kind kindergarten parent social!
Saturday, November 10th at 7pm.
Camp Kinder! Come dressed in your camping chic or lumberjack wack as we enjoy an evening filled with great food, drinks and s'mores around the campfire. It will be a night you won't want to miss! Get your tickets soon for this sell-out event!